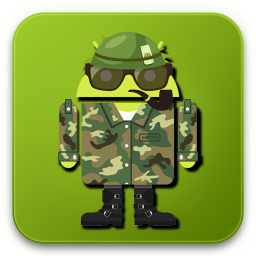 Google is now activating over 500,000 devices each day, growing at 4.4% week on week. This huge raise, led to a big explosion of apps being downloaded from the Android Market, which – at the time of this writing – is 6,148,593,955 (more info at http://www.androlib.com/appstats.aspx).
Among these, there is one particular kind of application which is potentially useful for every single Android user: an app which allows you to locate, track or find your phone in case of theft or loss. SecuDroid is one of those must-have apps which you'd better not need to use, but you'll definitely be glad to have it when somebody steals your phone or you lose it somewhere.
 Features: 
Location information including accuracy, speed and altitude 
Periodic tracking
Silent pictures using either the front or back camera
Remote Lock & Wipe functions
SIM card change notification 
FindMe Ringtone
Invisible Mode
E-mail integration  
FAQ: 
SecuDroid sleeps silently in your Android device waiting for commands sent from any cellphone by SMS. The answer to these comands will be sent by SecuDroid either by e-mail or by SMS.

These SMS will not show up on your phone because they are intercepted by SecuDroid, so the thief will not suspect that you are on your way to recover your phone.
How can I be sure that nobody will be able to track me if I install SecuDroid?
When you request an action from SecuDroid you must precede the command with a password. This password can be changed at any times from the SecuDroid configuration window and, by default, it is set to "PW" (without quotes).  Anyone who knows this password will be able to track you or even wipe your data off your phone.
How can I hide SecuDroid so that noone knows that it's there?
SecuDroid will appear as "eNotes" under the installed applications list. Also, you will be able to remove the launcher icon from the configuration window.
If I remove the launcher icon, how can I modify the settings?
You'll be able to launch the configuration window by dialing a pre-configured code from the stock phone app. This code, by default, is 3535 but you can change it at any times.
Will SecuDroid be able to determine my location even if GPS is off?
In order to switch GPS on, Android enforces the user to do it manually. However, SecuDroid will enable the GPS hardware without user interaction (by tricking the OS) to get the location and, afterwards, it will switch it off automatically to hide itself. Nonetheless, it is highly recommended that you test this feature in your particular device because this is likely to be avoided by Android in the future. In this case, just leave the GPS setting on (no impact on battery life) or you'll only get positions based on GSM towers triangulation.
Somebody stole my phone and I want to find out who, will the thief be able to locate the pictures in the phone storage?
No. Pictures are stored temporally without image extensions and they will be erased right after being sent
If I take a picture remotelly, will the thief hear the camera shutter sound?
SecuDroid will take pictures silently by disabling the shutter sound. However, some devices are impossible to get the shutter sound disabled due to legal restrictions so you must make sure how your device works by testing it first. You'll probably be able to disable it by some other means like rooting your phone and removing the sound but SecuDroid doesn't encourage you to root your phone unlike other apps.
The FindMe function is pretty cool but what if I left the phone in silent/vibration mode?
Just send a BEEP command to your phone and SecuDroid will ring loud for 60 seconds or until you switch the screen on/off no matter what the previous state was. After this command, volume will be set at maximum leve so you're free now to call and find out where the sound comes from
Just realized that I lost my phone with critical information. How can SecuDroid help me?
Before trying to track or locate your phone, you should lock it with a password to make sure that noone can access to your sensitive data or even make calls. If you feel that the information inside your phone is even more important than the device itself, wipe the data within a few seconds by issuing a WIPE command.
Transparency is really important. Does SecuDroid include any phone-home component that could compromise my privacy?
SecuDroid does NOT include any phone-home component. You can be completely sure that SecuDroid will not connect to a 3rd party server and will not use your location or personal information in any ways.
What e-mail account does SecuDroid use to send the pictures and location info to?
You can configure a GMail account from SecuDroid settings window and this will be the account used to send the answers to remote requests. If, for example, this account is removed or you change the password, the answers will be sent back via SMS (or MMS if a picture was requested). The default destination e-mail address is also configured and has not necessarily to be a GMail address.
Details: http://www.secudroidapp.com/secudroid
Instructions: http://www.secudroidapp.com/instructions
FAQ: http://www.secudroidapp.com/faq